Ellie Claire Art Journal Reviews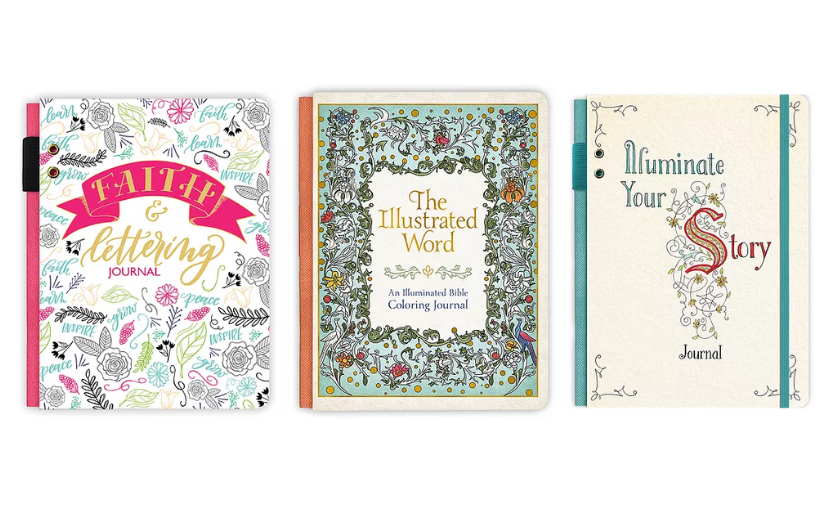 I was recently asked to try out some new journaling products from Ellie Claire. All three Journals were given to us by the Ellie Claire Gift and Paper Expressions company to review for our readers. All opinions are our own.
About Ellie Claire
Ellie Claire produces beautifully crafted journals, devotionals, and other creative gift and paper expressions. These remarkable products are sold in such national accounts as Barnes & Noble, Books A Million, Cracker Barrel, Walmart, Sams, Costco, and LifeWay Stores.
Use this almost-lost art of illuminating letters to enhance your writing, Bible journaling, or sermon note-taking. Rich illustrated manuscripts in the Museum of the Bible's collection inspired these gorgeous letters. Easy to follow instructions, practice pages, and encouragements guide you through the creation of amazing start letters, flourishes, and more.
HIGHLIGHTS
• Cloth spine opens 180º―takes lay-flat journaling to a new level
• Elastic pen loop on spine
• High-quality, non-bleed paper
• Uplifting, inspirational quotes sprinkled throughout
• Drawing guides, grid background practice pages, plus lined pages for journaling
• Ribbon marker, pocket, elastic band closure
Thoughts
This is a nice, well made journal with very nice thick paper. I would liken it to construction paper. It is on the smaller side, but it is a nice size to throw in a bag and take with you. It has nice thick covers and lays flat to make drawing easier.
There are different types of activities inside including tutorials on drawing illuminated letters, tutorials on drawing flourishes, and journal pages for writing or drawing. There are tons of them inside and it would take you awhile to draw them all, so it's a great value. They do a nice job of showing you how to draw the letters step by step, but I will admit that some of the drawings could be challenging for a novice.
You can use everything from pencils to paint inside. The paper is thick and well suited for most mediums. Overall this is a very nice journal, and even the most seasoned artist would learn a trick or two from it's pages.
-32%
Large Image
Illuminate Your Story Journal (Deluxe Signature Journals)
Museum of the Bible

Museum of the Bible Books

160 pages

Hardcover
Usually ships in 24 hours
Updated 31.12.1969 23:55:00.
Price incl. VAT., Excl. Shipping.
$13.00
Instead of $18.99**
**EIA by the manufacturer
Create your own masterpiece with this journal that has forty glorious illustrations from ancient manuscripts that have been recreated as line drawings. Just as medieval monks brought Scripture to life through intricate inked illustrations in handwritten manuscripts hundreds of years ago, you can now create your own stunning keepsake that will be treasured for years to come.
Thoughts
This is a very nice coloring journal.  It has nice hard covers and a lay flat spine.  The paper is also very thick like construction paper.  This one is mainly a journal with coloring pages.  It does not teach you anything or have tutorials.
All the journaling pages have a full color image of an illustration from a very old bible.  You can look down at the bottom of the page and it will tell you what the image is from and the year.   Then there are also tons of coloring pages all done in the illuminated style.  They are all very intricate and will take a long time to color, so this book is also a great value.  There are tons of lined pages to write on also, so this could be used for quite a long time depending on how much you write.  It would make a great gift for the person who like to take notes and color more than actual drawing.  Overall this journal is beautiful and well worth what it costs.
The Illustrated Word: An Illuminated Bible Coloring Journal (Deluxe Signature Journals)
Museum of the Bible Books

Museum of the Bible Books

160 pages

Hardcover
Usually ships in 24 hours
Updated 31.12.1969 23:55:00.
Price incl. VAT., Excl. Shipping.
$15.99
Instead of $15.99**
**EIA by the manufacturer
The Faith & Lettering Journal is designed to be a safe place to practice prompts, try your hand at different styles, and grow in your lettering skills. You'll practice the basics of hand-lettering, Bible journaling, sermon sketch note-taking, and have space to write about how these techniques are deepening your walk with God.
Thoughts
If you want to learn the art of bible journaling, this is the one for you! There is so much to learn and do in this journal. It is very well made and has the lay flat spine for easier drawing. The paper is thick like construction paper so you can use pens, markers, or your favorite drawing medium.
Inside your going to find lots of activities. There is lettering in cursive and regular print. There are also tutorials on decorations and full size artwork. Plus, one of the really great features of this book is that they give you ample space to practice. There are also many little drawings they have created to inspire you to copy or create your own. There are also several lined journal pages you can use to write or draw. This would make an excellent gift for someone who journals or wants to get started. This journal is fantastic!
-11%
Large Image
Faith & Lettering Journal (Deluxe Signature Journal) (Deluxe Signature Journals)
Krystal Whitten

Ellie Claire Gift & Paper Corp

160 pages

Hardcover
Usually ships in 24 hours
Updated 31.12.1969 23:55:00.
Price incl. VAT., Excl. Shipping.
$14.29
Instead of $15.99**
**EIA by the manufacturer