Quest Study Bible Review – The Question and Answer Bible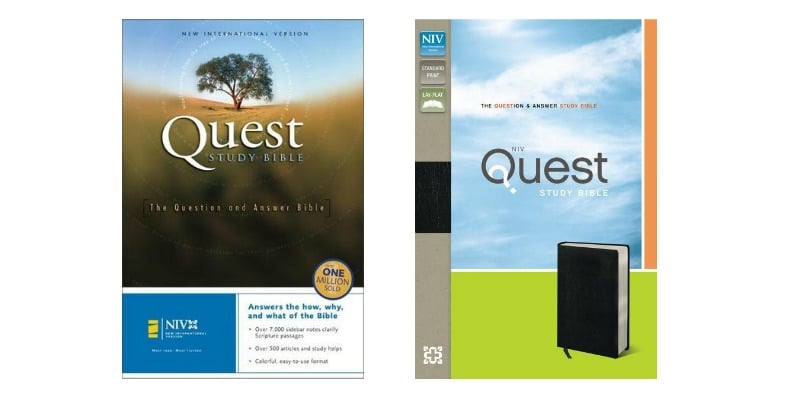 Quest Study Bible Review – Features Include: Over 7,000 sidebar notes shed textual, theological, and historical light on the Bible's most puzzling passages. Nearly 350 articles by top scholars address some of the most popular and provocative questions asked by Christians and non-Christians.
Quest Study Bible Review
Content
The Quest Study bible is called the question and answer bible and that is exactly what it does.  On the side of almost all pages is a section in blue that contains questions and answers that commonly come up when reading scripture.  I cannot tell how you many times I was reading this bible, and a question about what I was reading would pop into my mind.  Most of the time, the exact question that I was pondering would be right there on the side with the answer.  The publishers polled one thousand people and asked them the questions that came to mind when they were reading the bible, and that is what they used to formulate the notes.  Just a few examples are the questions, What did Noah and his family eat while in the ark? – Why does God allow temptation? – Is it okay to be proud?
There are over 7,000 questions answered in this bible which is quite a lot.  There are also about 350 articles that go a little more in depth on certain topics.  There is a great index in the back that lets you easily find the question that your looking for. This bible also contains many features including a bible reading plan, color maps, charts, and concordance. It also gives biblical opinions on subjects like cults, suicide, alcohol use, and many other topics. There are just a few flaws in that there are no bible verse references, and I am also disappointed that the words of Christ are not written in red.
Quality
This bible is made well and has stood up to lots of abuse.  I have the hardcover version and it has held up well.  The paper is good quality and the colors are vibrant, especially on the maps and charts. The text size and font are very easy and enjoyable to read.  The binding is still in perfect shape after about 4+ years of use.
Final Thoughts
If you find yourself asking a lot of questions while reading the bible, then the Quest Study Bible would be a great choice.  It answers many of the most commonly asked questions and then some.  I really like the layout and the fact that it is not crammed with an overwhelming amount of information.
Good
If you find yourself asking a lot of questions while reading the bible, then the Quest Study Bible would be a great choice.
PROS
Most Common Questions Answered
Great Study Charts
CONS
Jesus' words not in Red
No cross references
Some of the links in the post above are "affiliate links." This means if you click on the link and purchase the item, I will receive a small commission. Regardless, I only recommend products or services I use personally and believe will add value to my readers.